you're looking at the LimbO blog, which means you're either considering purchasing one of our waterproof protectors, or you're an existing customer. If you're an existing customer, the chances are you're also a LimbO convert. We love getting feedback from our customers about their great experiences using our protectors. It's because of the positive feedback we get from our customers that we're launching a new project, #myLimbOstory.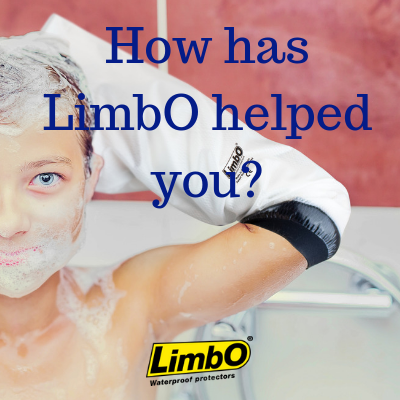 Have you used a LimbO and want to sing its praises to anyone that'll listen? If that's you, and you're happy to talk to us about it, we'd love to hear from you. We are looking for customers to help us create a collection of LimbO case studies using the hashtag #myLimbOstory, and we're welcoming any customers to contact us with the details of their own LimbO story.
Perhaps you have a PICC line, and an elbow protector proved invaluable while undergoing treatment. Or maybe you have a child who had a cast on a broken limb, and their LimbO was the only thing that gave you peace of mind when it came to bath-time. Whatever your story and your experience, we'd love to hear from you!
So if you think you'd like to get involved and you've got a LimbO story to tell, please don't hesitate to contact us. You can contact us via email or on social media and we'll take it from there.  We will then get in touch with you for further details in order to create a mini case study. We can't wait to share #myLimbOstory!