LimbO Waterproof Protectors
Durable covers for casts, dressings and PICC lines to help you shower or bathe.
Used within the NHS
Prices from £9.15 (+ P&P)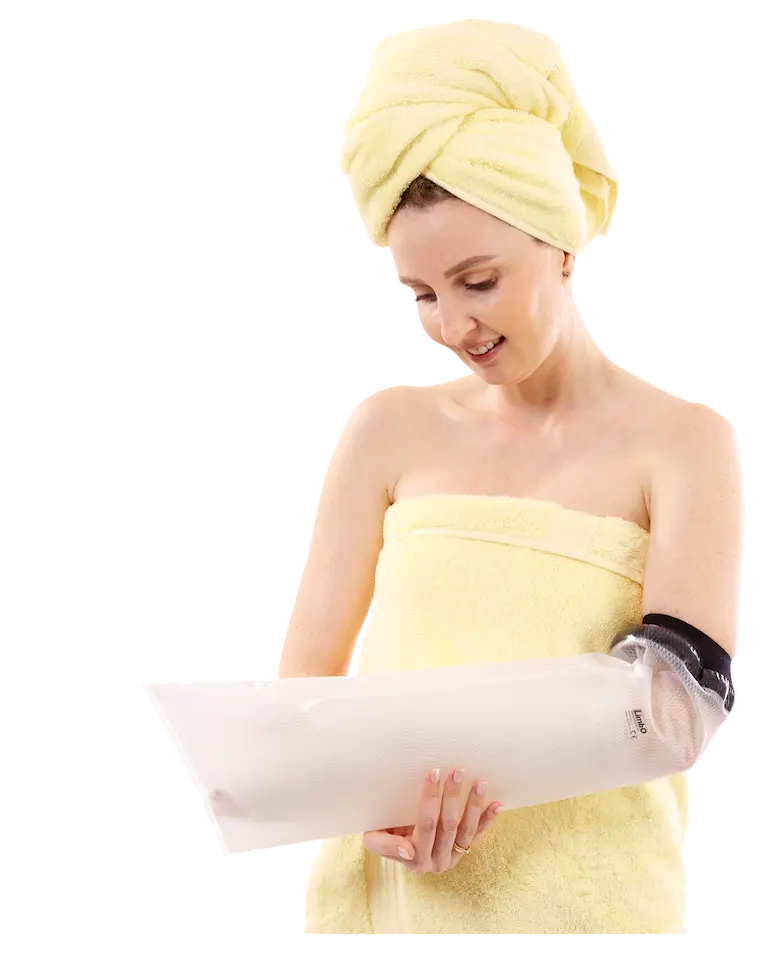 Let's find your LimbO
Which area of the body do you need to keep dry?
What our customers think
It's perfect never have any leaks always dry after shower easy to put on
It has been so nice for my husband to be able to get in the bath with his foot safely covered from the water with a watertight covering.
Prompt delivery. Robust product.
Popular questions about LimbO products
There are Adult Half Leg and Elbow (PICC Line) LimbOs available on prescription from your GP or prescribing nurse. These are primarily for those with long-term conditions such as leg ulcers caused by diabetes or those undergoing IV treatment through a PICC Line or Midline.
If you are prescribed a LimbO the next step is to take the prescription to your local pharmacy who should order the LimbO for you to collect.
If you need help determining which size prescription LimbO you need please give our friendly team a call on 01243 573417 or view the Measuring Guide on the product page.
Unfortunately, we cannot replace a LimbO which has been prescribed. If your LimbO is the incorrect size or, in the unlikely circumstance, faulty, please contact your GP or the doctor/nurse who prescribed your LimbO.
General medical advice is that swimming or similar vigorous water activities (e.g. water slides) should be avoided during the healing process and it might be a good idea to consult a medical practitioner if you have any doubts or questions regarding this.
However, you can use your LimbO for gentle submersion in a swimming pool, i.e. paddling or 'splashing around', given that you follow these safety guidelines:
Activities such as wading/paddling should only be done within one's depth
Children must be supervised at all times
Never enter a pool unaccompanied
Never use the LimbO as a flotation device
Do not attempt to use the LimbO in recreational activities
The LimbO can also be used in hydrotherapy as part of a medically-approved treatment. It can also be used in a hot tub, but for no longer than 10 minutes at a time as the heat will cause a faster build-up of condensation inside the LimbO.

Full leg casts can be heavy and severely restrict movement, therefore for safety reasons it is recommended not to go in a pool or the sea.
The LimbO should not be worn for longer than 25 minutes at a time because condensation can begin to build up inside the LimbO as it is completely sealed.
Please follow the quick, easy steps with our LimbO configurator tool which can be found on the homepage. Alternatively click here to find your LimbO.
You can double check that you have the correct size LimbO by using the Measuring Guide on the product page. Please visit our YouTube channel for further tips and advice.
Alternatively please call 01243 573417 and our friendly team will check that you have the correct size. It might be useful to have a soft tape measure to hand but this is not a necessity.