Tips for diabetes wound care
If you have a diabetic foot ulcer, you should talk to your healthcare professional about the best way to care for it to help it heal as quickly as possible. The healthcare professional should check the size and look for signs of infection or other problems, so the ulcer does not get worse and lead to further complications. These steps will help you treat the ulcer, but treatment depends on how severe the ulcer is. Make sure you always speak to your doctor about the best course of action.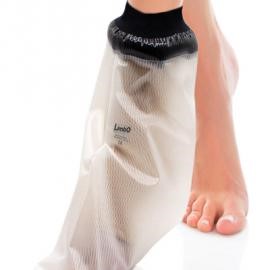 Offloading – this is when a plaster cast is used to take pressure off the wound, so it has a chance to heal. If you're wearing a cast or a wound cover, our LimbO waterproof covers will help you bathe or shower so you can maintain good personal hygiene whilst recovering.
Antibiotics – Your doctor may prescribe antibiotics, in order to treat any kind of infection.
Blood supply – Making sure the foot has good blood supply is a great way to prevent and treat diabetic foot wounds.
Debridement – This is when a healthcare professional clears away damaged and infected skin from the wound, so it can heal more easily.
Dressings – Use dressings while the ulcer heals and change them regularly so the wound is kept clean. People wearing dressings can also benefit from our waterproof covers.
Contact us for more information about how LimbO waterproof protectors can help if you're currently treating a diabetic foot ulcer.