#mylimbostory – The Real Life Impact of a LimbO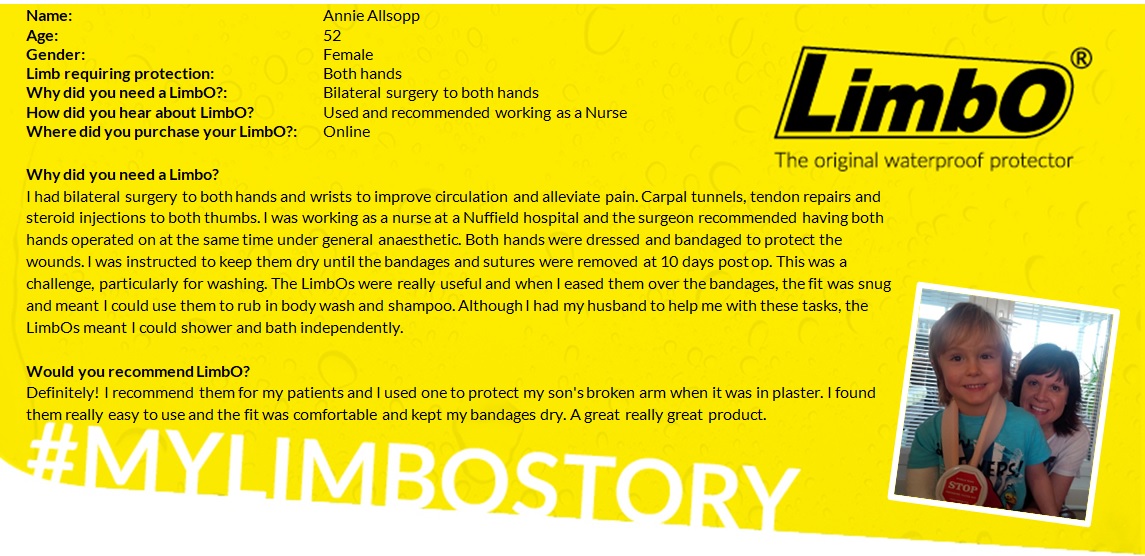 Over 28 years, and with worldwide sales of over two million, many people have had their lives transformed – over the short or long term – with the LimbO Waterproof Protector.
A number of our LimbO users have shared their experiences with us. Whether the need for LimbO was because of a PICC line, diabetic ulcer or due to a more temporary injury to cover a cast on a broken limb, the product has proved invaluable for people experiencing a wide range of situations. Here are just a few examples of LimbO's important work maintaining a patient's quality of life and independence during recovery.
Annie Allsop
Annie Allsop had bilateral surgery to both hands and wrists to improve circulation and alleviate pain. With the need to keep bandages and sutures dry for 10 days, the challenge came when washing each day. Annie used two LimbOs which offered a snug fit over bandages meaning she could still use her hands to rub in body wash and shampoo, and shower and bath independently. Annie, who is a nurse, went on to recommend the LimbO to her own patients and used LimbO again at home when her son (pictured) broke his arm.
Anna Forbes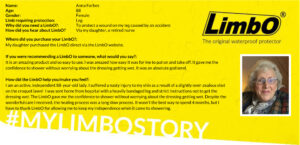 Anna Forbes is an active, independent 88-year-old lady. After suffering a nasty injury to her shin as a result of an 'over-zealous' shot on the croquet lawn, she was sent home from hospital with a heavily bandaged leg and strict instructions not to get the dressing wet. LimbO gave her the confidence to shower without worrying, especially given she faced a slow healing period of a few months.
Ian Scarrott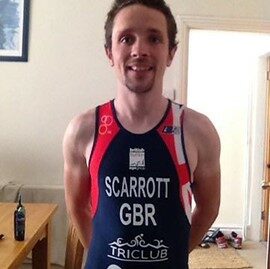 Ian Scarrott is an active triathlete, qualified Triathlon coach and personal trainer. He broke his leg after a nasty fall on his bike, which needed an operation to place nine pins on either side of his right ankle. Ian was recommended a LimbO by the hospital team when he was discharged, and was impressed with the impeccable service he received after first ordering the wrong size, and needing a quick replacement. He felt the LimbO enabled him to keep the injury infection free and get back to sport sooner. Ian now recommends LimbO personally and professionally.
Sam Coleman
Sam Coleman had begun playing rugby at his new high school but during his second practice broke his left leg – both tibia and fibula! He spent a total of 15 weeks in three different size leg casts (full leg, 'cricket pad' and below knee). The LimbO gave Sam no excuse to avoid a shower and bath, and it kept the casts completely dry. He also used the Outcast all weather foot cover by LimbO to keep his cast clean and dry when outside, which allowed him to visit the beach and climb Kingley Vale in Sussex on his crutches.
Post purchase, we routinely check that our customers have had a positive experience with their LimbO. With more than 10,000 reviews and a strong feedback score of 4.87/5.00, we are proud of the impact LimbO has had on many people's lives.
If you have a LimbO experience to share, we would love to hear from you on Facebook or Twitter – just tag your post #mylimbostory.