LimbO Foot Model Now Available on Prescription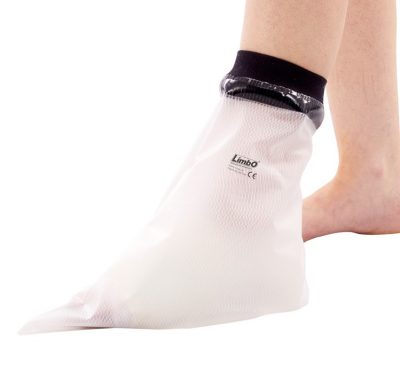 We are proud to announce that the foot model in our LimbO Waterproof Protector range is now available on prescription. It has been accepted on the Drug Tariff for England and Wales, meaning it's accessible on FP10 prescription. This is welcome news for people with chronic foot wounds, including diabetic foot ulcers, who need to keep their foot dressings dry in the shower and require a reliable and comfortable solution.
The LimbO foot model is a class 1 medical device. Developed eight years ago, it quickly gained widespread popularity, both in the UK and internationally. Its success is due to its effective design, incorporating a gentle non-constrictive neoprene seal. This comfortable waterproof cover is available in two sizes and is latex free. This means it's simple and safe to use by patients with sensitive skin or compromised blood flow, which can be a major issue for patients living with diabetes.
Helping A Growing Patient Group
The foot model has rapidly become one of our most popular LimbOs, partly because it helps a large patient group that is growing exponentially year on year; those living with diabetes, a high proportion of which have foot complications.
Over the last 15 years, we've worked hard to establish the LimbO adult half leg options on prescription. These options have become the most popular waterproof solution for UK prescribers for patients with lower leg venous ulcers or wounds.
We're excited about extending our range of LimbO waterproof protectors on prescription and helping more patients. As well as patient well-being, using a LimbO reduces the chance of dressings becoming wet and requiring unnecessary redressing and the healthcare risks, patient stress and costs associated with that problem.
Please talk to your GP, community nurse team or foot health specialist if you think you would benefit from being prescribed a foot model.
Healthcare Professional Resources
Samples and prescription packs, with the sizing and PIP codes for Healthcare Professionals are available via our dedicated HCP page on this site https://limboproducts.co.uk/limbo-products-healthcare-professional/ or please call us on: 01243 573417 or email: info@limboproducts.co.uk.
The foot model can also be purchased here: https://limboproducts.co.uk/products/limbo-waterproof-protectors/adult/foot-knee/ or by calling us on the above number.