Can I reuse my Limbo?
Whilst your LimbO is made from durable materials manufactured to a high standard and can last for many years, we do not actively recommend reusing it for a second injury. There are a few reasons why not:
There are different LimbO models to suit every limb and to cover different types of casts and dressings. If you are unlucky enough to break the same limb in the same place twice, then you may be able to reuse the same LimbO, but as this is very rare, the reality is you will need a different LimbO to suit each specific situation.
Our LimbOs are manufactured in a range of different sizes to provide the best fit for the limb. Whilst you may be really pleased with your LimbO and be happy to recommend it to a friend or family member, sharing your LimbO with them may mean they do not have the same positive experience, as it may not be the correct model or size for their limb/dressing/cast.
Infection control is important, especially around injuries and conditions that create open wounds. Popping the LimbO in a cupboard, forgetting about it for a few years, then getting it out and trying to re-use it, increases the risk of infection. Whilst this risk remains extremely low and can be mitigated through cleaning, we must advise you of the risk and therefore recommend not reusing the LimbO.
Can my LimbO be recycled?
As an ethical company, aware of the impact of single use plastics on the environment, we do not advocate simply throwing your LimbO away after you have finished with it. We are working hard to find a way of recycling LimbOs but, until then, here are a few ideas some happy customers have shared with us as to how they were able to reuse their LimbO:
A reusable carrier bag holder
A bathroom toy tidy
A boot bag for muddy shoes/football boots
A kit bag for wet swimming kit
An umbrella bag/cover
A sleeve protector for painting or gardening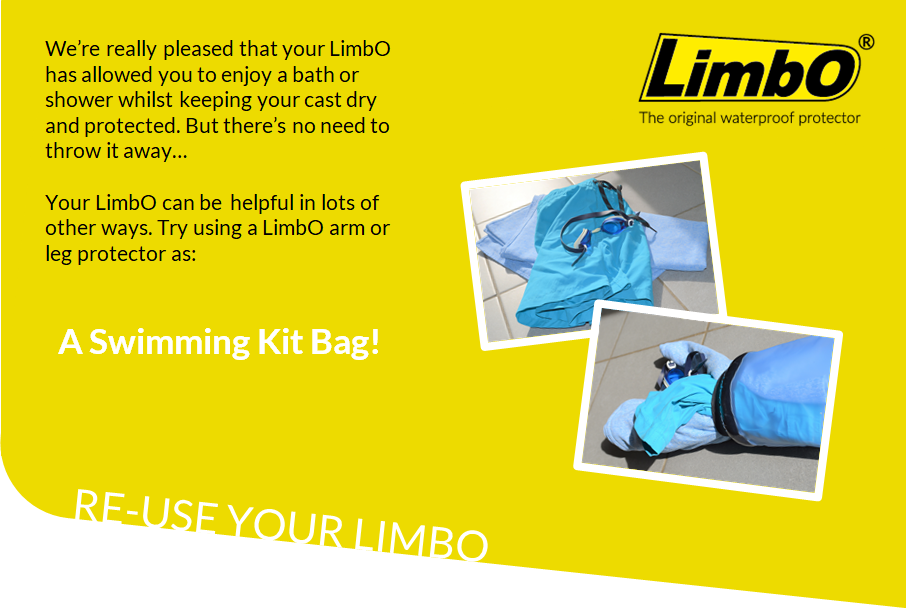 Bathing and Showering with Lymphoedema
What is lymphoedema?
To put it simply, the term lymphoedema is used to refer to chronic swelling.  Lymphoedema occurs when there is damage to or blockage of the lymph nodes, making it difficult for lymphatic fluid to drain properly.
There are several causes of lymphoedema, including parasitic infection, injury or trauma, radiation therapy, surgery, tumours and skin infections. It can be common for women who have been treated for breast cancer to develop lymphoedema in their arms.
Is there a cure for lymphoedema?
Unfortunately, there is no cure for lymphoedema. However, there are many treatment options to help manage it, such as compression garments and pumps, manual lymph drainage massages (MLD), and range-of-motion exercises. Lymphoedema can be progressive or lead to complications, so it is very important to maintain a strict care regime.
Can I bath or shower with lymphoedema?
You may not be surprised to see this question on our website. LimbO waterproof protectors were originally designed to protect plaster casts applied to fractured limbs. Subsequently, LimbOs have been widely recommended by clinicians to help protect leg ulcers, open wounds, PICC lines, midlines and compression dressings around lymphoedema.
The positive answer is YES, you can still enjoy a bath or shower by using a LimbO waterproof protector to cover your wraps, bandages, dressings and compression garments.
Does a LimbO work for lymphoedema?
Yes. But don't just take our word for it. We sent a LimbO to Alexa Ercolano, founder and blogger at thelymphielife.com, who kindly agreed to use it and review it for us. You can read her full review entitled "Enjoy bath time again with the LimbO Waterproof Protector" here.
 We are grateful to Alexa Ercolano, founder and blogger at thelymphielife.com for reviewing LimbO waterproof protectors and for helping us compile this information page.
Leg Ulcers and Diabetic Ulcers
Foot ulcers are a common complication of poorly controlled diabetes, forming as a result of skin tissue breaking down and exposing the layers underneath. They are most common under the big toes and the balls of the feet, and they can affect feet right down to the bones.
All people with diabetes can develop foot ulcers and foot pain, but good foot care can help prevent them. Treatment for diabetic foot ulcers and foot pain varies depending on the cause. Discuss any foot pain or discomfort with your doctor to ensure it is not a serious problem, as, if neglected or left untreated, infected ulcers can result in amputation.
* Credit to Healthline.com for this useful intro https://www.healthline.com/health/diabetic-foot-pain-and-ulcers-causes-treatments
How do I care for foot ulcers?
There are various elements to caring for a foot ulcer. Your doctor or community nurse will be able to provide you with a personalised care plan based on your personal circumstances, your overall health, where the ulcer is, the severity of the ulcer and any related issues.
Typically, these care plans include:
Treatment with antibiotics;
Use of a carefully designed plaster cast to reduce pressure and allow healing;
Removal of any dead/dying skin around the affected area;
Use of dressings to protect the ulcer(s);
Exercise to stimulate blood flow to the area.
The most important aspect in treating foot ulcers is maintaining the care plan – keeping the area clean and minimising the risk of infection.
Can I bath and shower with foot ulcers?
You may not be surprised to see this question on our website. LimbO waterproof protectors were originally designed to protect plaster casts applied to fractured limbs. Subsequently, LimbOs have been widely recommended by clinicians to help protect open wounds, PICC lines, midlines, compression dressings around lymphoedema and leg ulcers.
The positive answer is YES, you can still enjoy a bath or shower by using a LimbO waterproof protector to cover your dressings and protect the ulcers.
As noted above, keeping clean and avoiding the risk of infection is incredibly important, so being able to continue bathing and showering can not only keep you feeling human, but also helps to avoid making the ulcer(s) worse.
Do Clinicians Recommend LimbO Waterproof Protectors?
Since it was first launched in 1994, the LimbO waterproof protector has gained lots of recommendations, not only from its users. Originally designed to protect plaster casts applied to fractured limbs, LimbOs are now recommended by healthcare professionals around the world to help patients deal with a number of conditions and injuries including: open wounds, PICC lines, midlines, compression dressings around lymphoedema and diabetic leg ulcers.
The simple answer is yes, lots of doctors, nurses, specialists and community health workers recommend LimbO waterproof protectors.
Why do clinicians recommend LimbO waterproof protectors?
There are many reasons why LimbO enjoys a large following amongst the healthcare community. With its original purpose of keeping plaster casts on fractured limbs dry, by far the biggest reason for recommendation by clinicians is because using a LimbO to shower or bathe avoids the need for wet casts to be replaced. Replacing a cast that has become wet is time consuming, uncomfortable for the patient, risks disturbing the healing process and costs the NHS (and equivalents in other countries) hundreds of thousands of pounds (£) each year. So, anything that can avoid the need for recasting is a positive for clinicians.
In a similar way, using a LimbO in the shower or bath can also help protect PICC lines, midlines and dressings used to treat other conditions such as lymphoedema and diabetic foot ulcers. The focus here concerns infection control, quality of life for the patient and the avoidance, where possible, of creating unnecessary issues around existing conditions.
Aside from the practical benefits, clinicians recommend LimbO by name because it has a proven track record; is cost effective; does exactly what it is designed to do; is delivered quickly to customers and comes with a quality guarantee.
But don't just take our word for it…
Clinicians' survey
With over two million products sold (and counting) and over 10,000 happy customers leaving us feedback on Trusted Shops , we know we have created a quality product that people are happy to buy and have a positive experience using.
However, until recently, we had never undertaken a formal survey of practitioners at the front line who recommend our products daily. So, in late 2019, we embarked on our first ever survey of clinicians.
Through our attendance at a myriad of healthcare events every year, in addition to working closely with fracture clinics, community nursing teams and healthcare professionals, we have built a large body of anecdotal evidence in support of using LimbO waterproof protectors, as well as a sizeable list of contacts. This survey has provided us with a unique opportunity to understand why practitioners recommend LimbO to patients and their perceptions of the benefits a LimbO can bring to its users and the NHS in terms of cost savings.
The following infographic reveals some of the key survey findings.
The 2019 survey provided us with an opportunity to carry out further research which we will start in the future.

How to Bathe or Shower with a Cast on
You've broken a limb or got a fracture and you're facing weeks in a cast. Now that you're over the pain of the injury and beginning the process of recovery, your mind will undoubtedly turn to the practicalities of dealing with your new cast. They are not all that flexible (as you will have found out!) and you may be feeling a bit restricted: limited or no exercise, potentially no driving and, perhaps worst of all, difficulty showering or getting in the bath. You will also have left the hospital or fracture clinic with strict instructions not to get your cast wet.
Keeping your cast dry
Keeping your cast dry not only avoids the risk of needing it replaced, it also reduces the risk of infection. Each year the NHS spends millions of pounds on re-plastering and dealing with hospitalisation as a result of injuries becoming infected – money that could easily be redirected into front line services. Aside from the discomfort and inconvenience re-plastering can mean for you, 100% of clinicians* agree that using a LimbO waterproof protector can help prevent complications arising from a wet cast – directly helping NHS.
Cling film, carrier bags, stand up washes and hanging it out of the bath
If you've searched the internet for a solution to the problem of showering with a cast on, you will have seen a host of videos and content suggesting all manner of ideas from wrapping it in cling film, to using duct tape and a plastic bag, or even just avoiding washing all together! Before they learned about LimbO, two-thirds of clinicians* said they would recommend that patients avoid submersion all together and simply use a sponge or cloth to wash with.  We know from experience that people try a variety of different methods to keep their casts dry – whilst some seem to provide a reasonable watertight seal whilst static, the natural movement of your body and changing shape of your limb means such methods soon spring a leak.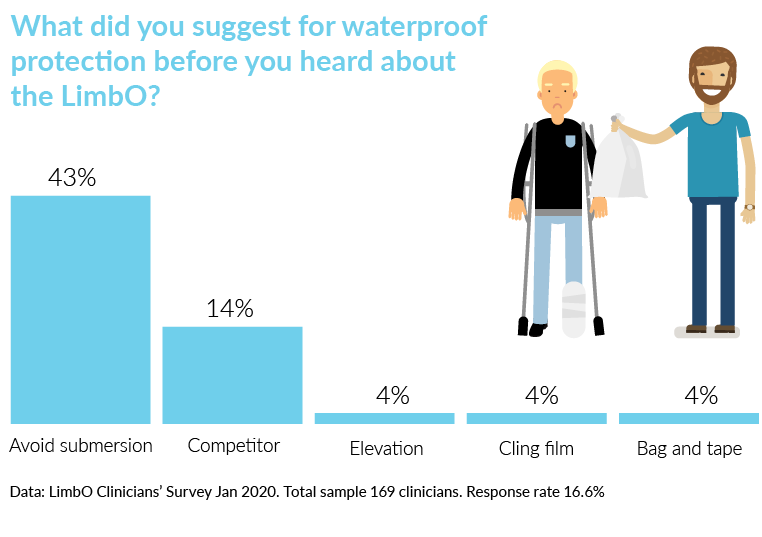 Shower in confidence with a LimbO waterproof protector
When we invented the first LimbO in 1994, it was because one of the founders found himself with a plaster cast and had worked his way through all the old wives tales and ideas suggested by friends and family (there was no internet to search back then!) to keep his cast dry in the shower. He soon concluded that none of these methods worked successfully. He tried bags and tape, cling film, a chair next to the bath and even using a sponge, but somehow water always ended up in, on or around the cast. Constantly having to be alert to the risk of soaking the cast was neither restful nor relaxing.
Our founders had a live case study to work on, eventually designing the LimbO waterproof protector, with its innovative, comfortable and secure neoprene seal that flexes to fit the shape and contours of your limb, maintaining a waterproof seal whilst delivering a full range of movement.
So, before you search for the duct tape and begin emptying the bin, why not try the LimbO and run yourself a relaxing and well-deserved bath.
*% of respondents to our 2019 clinicians survey